International Centre for Endometriosis
The International Centre for Endometriosis at Cromwell Hospital provides swift diagnosis and advanced treatment for patients experiencing endometriosis.
About endometriosis
Endometriosis can have a significant impact on a patient's quality of life, causing a wide range of debilitating symptoms including considerable pain. The variation in symptoms can make diagnosing endometriosis difficult in a primary care setting, with patients waiting on average seven years before receiving an endometriosis diagnosis.
At the International Centre for Endometriosis, our aim is to provide patients with rapid access to a diagnosis, and a comprehensive, tailored treatment plan to set them on a path to recovery.
Endometriosis is the second most common gynaecological condition in the UK and can affect women of any age.
It is a chronic condition and occurs where tissue, similar to the lining of the womb, starts to develop in other places, such as the ovaries, fallopian tubes, bowel, bladder and sometimes in the lungs. This tissue goes on to develop adhesions and scarring which then leads to symptoms.
Endometriosis symptoms are wide-ranging and can vary in severity too. The most common symptoms of endometriosis are:
Pelvic pain – which is usually worse during your period
Significant period pain
Pain when going to the toilet during your period
Pain during or after sexual intercourse
Fertility issues.
If you are experiencing any of these symptoms, we recommend you book an appointment directly at our Endometriosis Centre – you don't need a GP referral to access our services.
The International Centre for Endometriosis at Cromwell Hospital is highly reputable for the advanced management of complex endometriosis.
The Centre brings the best experts in Endometriosis together to provide a thorough robust approach to this condition which can have a serious impact on quality of life, fertility, bowel and bladder.
The Centre is led by Mr Amer Raza who is a consultant gynaecologist with vast experience in treating complex endometriosis. Mr Raza is also co-founder and director of CCMIG (Chelsea Centre of Minimal Access Gynaecology).
In acknowledgement of the exceptional standards of care we provide, we are recognised as a BSGE-accredited Endometriosis Centre for 2023.
Endometriosis treatment
Although there is no cure for endometriosis, there are a variety of treatments that can significantly reduce the pain associated with the condition and ease symptoms.
These include hormone medications or surgery, including the excision of endometriosis tissue or surgery to remove part or all of the affected organ (e.g. hysterectomy).
Adolescent endometriosis service
Endometriosis is a debilitating disease having a serious impact on one's life with severe pelvic pains and painful periods. The incidence of endometriosis is 10% among adult women but found to be even more common (39%) in young adolescent girls (13-18). This leads to severe implication on quality of life in the early years from missing school, sports activity, and social activities with their friends. A long-term impact has been noted in this group if not managed actively.
The International Centre for Endometriosis at Cromwell Hospital is a leading institute providing high quality multidisciplinary care for these patients and is now proud to extend its services to young adolescent patients suffering with this problem.
Mr Amer Raza, lead consultant for endometriosis, has established a pioneering multidisciplinary team including gynaecologist Miss Maya Al-Memar, colorectal surgeon Mr Valerio Celentano, and consultant gastroenterologist Dr Assad Butt alongside a nutritionist, psychotherapist, and physiotherapist team.
Endometriosis presents with severely painful periods, cramps, nausea, vomiting, and changes in urination in young patients. A multidisciplinary approach with full access to examination, ultrasound and MRI for early diagnosis is central to the right care for these patients. All options including supportive, nutritional, and medical hormonal treatment are available to our patients.
Multidisciplinary discussions in more complex endometriosis cases will be followed by laparoscopy and robotic surgery to remove (excisional technique) the disease.
As endometriosis can have a serious psychological impact on one's life, psychotherapist consultant support is available for symptomatic patients.
Miss Maya Al-Memar, Consultant Gynaecologist, sees adolescent patients from 13 to 18 in Skyline, our children and young people's pediatric department. An expert in gynaecology, Miss Al-Memar is clinical lead for pediatric and adolescent gynaecology at Imperial NHS Healthcare Trust.
Patient testimonial: Rocio's story
Rocio Hayer was treated by Mr Amer Raza at Cromwell Hospital for severe endometriosis.
Our endometriosis specialists
The International Centre for Endometriosis is staffed by an experienced team of endometriosis experts, collectively led by Mr Amer Raza.
Mr Raza is a Consultant Gynaecologist with extensive experience in managing complex endometriosis. Mr Raza has expertise in the treatment of all forms of endometriosis, including peritoneal endometriosis, ovarian endometrioma, and rectovaginal disease. He has developed a multidisciplinary approach to treating severe endometriosis, and his team consists of experts in colorectal surgery, urology, fertility and complimentary therapies, such as acupuncture and physiotherapy.
The team will collaborate and work together to devise the best treatment plan to alleviate your specific symptoms in the most efficient and safe manner.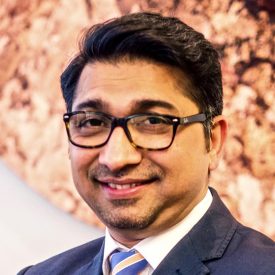 Book an appointment today
Our telephone lines are open 8am to 8pm Monday to Friday and 8am to 2pm Saturdays.
Please note - regrettably we are unable to answer specific medical questions or offer medical advice via email or telephone