International Centre for Endometriosis
The International Centre for Endometriosis provides rapid access to the diagnosis and treatment of endometriosis.
Endometriosis can have a significant impact on a patient's quality of life, causing a wide range of debilitating symptoms including considerable pain. The variation in symptoms can make diagnosing endometriosis difficult in a primary care setting, with patients waiting on average seven years before receiving an endometriosis diagnosis.
The International Centre for Endometriosis at Cromwell Hospital is highly reputable for the advanced management of complex endometriosis.
The Centre brings the best experts in Endometriosis together to provide a thorough robust approach to this condition which can have a serious impact on quality of life, fertility, bowel and bladder.
The Centre is led by Mr Amer Raza who is a consultant gynaecologist with vast experience in treating complex endometriosis. Mr Raza is also co-founder and director of CCMIG (Chelsea Centre of Minimal Access Gynaecology).
What is endometriosis?
Endometriosis is the second most common gynaecological condition in the UK and can affect women of any age. It is a chronic condition and occurs where tissue, similar to the lining of the womb, starts to develop in other places, such as the ovaries, fallopian tubes, bowel, bladder and sometimes in the lungs. This tissue goes on to develop adhesions and scarring which then leads to symptoms.
What are the most common endometriosis symptoms?
Endometriosis symptoms are wide-ranging and can vary in severity too. The most common symptoms of endometriosis are:
pelvic pain – which is usually worse during your period
significant period pain
pain when going to the toilet during your period
pain during or after sexual intercourse
fertility issues
If you are experiencing any of these symptoms, we recommend you book an appointment directly at our Endometriosis Centre.
What are the treatment options for endometriosis?
Although there is no cure for endometriosis, there are a variety of treatments that can significantly reduce the pain associated with the condition and ease symptoms. These include:
Hormone medicines and contraceptives, such as the combined pill or the contraceptive patch to suppress hormones to reduce symptoms.
Surgery to remove the patches of endometriosis tissue. At Cromwell Hospital, these types of surgeries can often be carried out laparoscopically, meaning only a small incision is made in the stomach to remove the tissue. Cromwell Hospital is also one of few hospitals in Europe to offer robotic-assisted excision (removal) of endometriosis using the da Vinci Xi surgical system, which results in less scarring, more accuracy and less pain with better postoperative recovery.
Surgery to remove part or all of the organ affected by endometriosis, for example, a hysterectomy to remove the womb. This type of surgery is generally only needed where other treatments have not worked.
The Endometriosis Centre team
Our Endometriosis Centre is staffed by an experienced team of experts, led by Mr Amer Raza.
Mr Raza is a consultant gynaecologist with extensive experience in managing complex endometriosis. Mr Raza has expertise in the treatment of all forms of endometriosis including peritoneal endometriosis, ovarian endometrioma and rectovaginal disease. He has developed a multidisciplinary approach to treating severe endometriosis, and his team consists of experts in colorectal surgery, urology, fertility and complimentary therapies such as acupuncture and physiotherapy.
The team will collaborate and work together to devise the best treatment plan to alleviate your specific symptoms in the most efficient and safe manner.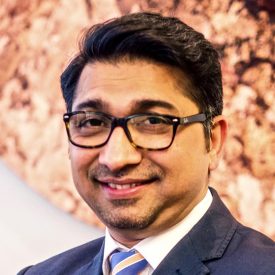 Book an appointment today
Our telephone lines are open 8am to 8pm Monday to Friday and 8am to 2pm Saturdays.
Please note - regrettably we are unable to answer specific medical questions or offer medical advice via email or telephone